Name a film where Kate Winslet doesn't get naked.
Go ahead … I'm waiting.
Her best actress Oscar-winning performance in The Reader … Naked.
Revolutionary Road … Naked
Quills … Naked
Holy Smoke … Really naked.
Hideous Kinky … I don't remember. Probably naked.
Heavenly Creatures … Never saw it. Sounds like she got naked.
Titanic … Tastefully naked enough to get a PG-13 rating so your kids can go.
Kate even played Ophelia naked in a 1996 film version of Hamlet. I don't remember that scene from when I saw the play in high school. According to the nude-scene-tracking website MrSkin.com, Kate has graced us with nude scenes in 12 movies, which is more than a third of her performances.
The site gives her sheer volume and quality of nude scenes its highest rating of four stars, and grants her immediate induction into their Nudity Hall of Fame (eat your heart out Academy of Motion Picture Arts and Sciences).
So I'm watching Kate's latest performance in the depression era mini-series Mildred Pierce on HBO and I'm wondering, "Hmm. Dowdy, working class mother sacrificing for her spoiled child in a role previously played by unsexy drag queen icon Joan Crawford? Not exactly a ripe character for nudity."
Forgetaboutit … Naked. You're barely into the second episode (out of five) before she's being peeled and Pearced. Guy Pearce-d, that is. Third episode: Well, there's some serious Pierce's behind business but … wait for it … Yep, there drops the dowdy slip and Kate's naked again.
Now Kate is a serious, big time award-winning actress (59 or so nominations), who probably could have a no-nude clause in any contract she wants just by the virtue of her status in the pantheon of leading actresses.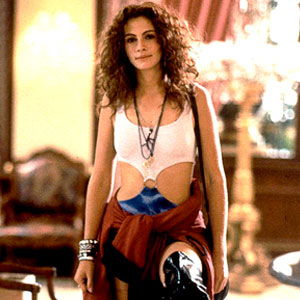 Julia Roberts never got fully naked … even when playing a prostitute in Pretty Woman. I read it was in her contract that any nudity would be done by a body double. Now you can easily tell Kate never uses a body double because, by now, we pretty much know every square inch of her naked body by mammary- er, by memory.
Now, I'm not griping. I have nothing against a gratuitous lead actress nude scene … unless, of course, it's Kathy Bates (yes, there WAS one, don't ask me where). But I can't help but wonder if the abundance of bareness on display from Kate's roles go beyond what serious actresses on display call 'integral to the part.' In other words, maybe she just loves flashing her ta tas on camera.
Now she did happen to remain clothed throughout her turn as children's book author J. M. Barrie in Finding Neverland, but I suspect there are a few deleted scenes where she flies naked with her fictional creation Peter Pan in an erotic dream sequence.
I also suspect there is a clause in her standard studio contract where her directors must shoot her doing at least one scene naked … If only to keep up with Helen Mirren.
Helen, according to MrSkin.com, has done 16 nude roles so far,  and is also a previous four-star Nudity Hall of Famer. And I believe Helen originated the must-include-nude-scene clause in her contract and has honored it for most of her career. One of her very first roles in Michael Powell's Age of Consent (appropriately named) had her running around starkers at seventeen as a free-spirited island girl for half the movie. And she was still doing the occasional nude scene well into her fifties (and still looking pretty damn good). Just last year she played the non-fictional brothel owner of the Mustang Ranch in Nevada. I didn't catch that performance, but tell me she didn't feel the need to show the girls how it's done at some point in the story. (I just checked MrSkin.com and … She did. Naked. At 65!) The entire British Commonwealth and I were relieved to find she felt no such impulse to expose her royal crown jewels when she played the Queen Mother in The Queen.
Is there something in the early training of English actresses that promotes a less uptight or more free-spirited approach to nudity in a role? In any role?
Is it some competitive drive from being so close in proximity to notoriously naked-loving France? And why do so few American actresses share this need to literally bare all for every role. And how do we get Harvey Keitel to stop?
I'm enjoying Kate Winslet's performance as Mildred Pierce in the HBO miniseries, but ironically it's not because of the nudity. Industrial strength girdles from the 1930s are no big turn on.
Neither are bread lines, massive unemployment, and FDR on the radio warning of "a host of unemployed citizens facing the grim problem of existence," "unscrupulous money changers," "the falsity of material wealth as the standard of success," "the tragedy of the growing loss, through foreclosure," and "conduct in banking and in business which too often has given to a sacred trust the likeness of callous and selfish wrongdoing." But, come to think of it, if Kate Winslet getting naked can momentarily distract us from experiencing these same events and exploitations all over again, God bless her. And God bless her ta tas.
— A. Wayne Carter