Richard Matheson
1926-2013
This blog wouldn't exist without him. This writer wouldn't exist without him. Richard Matheson was my earliest inspiration to become a writer. I devoured his fantasy and science fiction short stories in paperback collections such as Shock! (previously published in men's pulp magazines) as a normal suburban child starving for something completely different. The first story I vividly remember called "Children of Noah" had a city dweller driver pulled over in a speed trap in a way out-of-the-way town, arrested, and confined in a metal box of a cell that kept getting increasingly hotter, until our protagonist finally realized he was being cooked by a town inhabited by the descendants of cannibals.
Smokin' twist. I was hooked.
Then there were the infamous "Twilight Zone" episodes. Think of the most memorable ones and chances are some were episodes he wrote, including: "Nightmare at 20,000 Feet," where William Shatner can't convince the crew of the passenger plane he's flying on that a monster gremlin has been peeling back the wing fuselage. Or "Third from the Sun," where two families desperate to escape a big brother government flee in a rocket targeted for a planet called… Earth. Or
"The Invaders" episode, where a mute farm woman fends off the relentless attack of tiny spacemen with ray guns until she beats them and their spaceship to pulp with an ax and we hear their final distress signal calling… Earth. These perspective-shift stories might seem predictable today, but they weren't back in the fifties and sixties when writers such as Matheson, Rod Serling and Charles Beaumont invented them.
My first published stories were pale Xeroxes of Matheson-style stories and perspectives, appearing in magazines like Creepy and Eerie. I wasn't alone. Steven Spielberg, George Lucas, Stephen King and all the pioneers of our contemporary fantasy fiction and cinema acknowledge the overwhelming influence of those early Matheson stories.
Spielberg even directed a TV movie based on a Playboy magazine story by Matheson called "Duel" about a hapless driver stalked by a maniacal truck driver along barren stretches of desert highway. These were stories derived from our own deepest anxieties and experiences – dangerous truckers on highways, fear of small town speed traps –  but played for maximum suspense and unexpected pay offs.
I have the original first edition paperback of his seminal vampire novel, "I Am Legend." It seems everyone's tried to make a film out of it, from the laughably race-charged version, "The Omega Man," with Charlton Heston, to the over-the-top CGI version with Will Smith.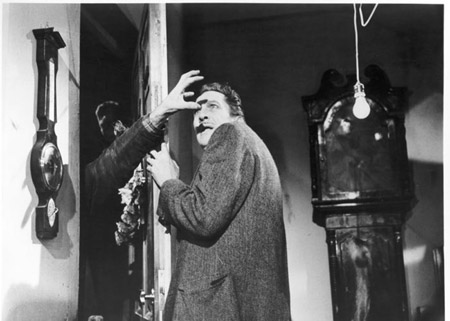 The truest version is 1964's "The Last Man on Earth" with Vincent Price. It maintains the ultimate creepy quality of the book, where the plague vampires flail with planks beating against your boarded up house all night trying to get in while you hole up listening to classical music on vinyl. That version preserves Matheson's own devout appreciation and love of a composer's music (he was a huge fan of Richard Wagner) as something still worth living for in an apocalyptic world.
I never met Matheson. I met his contemporaries, Ray Bradbury and Robert Bloch, at book signings at the Change of Hobbit bookstore in Santa Monica.
I went to Alfred Hitchcock's funeral (I first read some of Matheson's stories in collections published under Hitchcock's name). I arrived in L.A. too late to meet Rod Serling or attend one of his writing classes before he died. But I haunted the bookstores and studios that housed original copies of Matheson's books, or that filmed versions such as, "Somewhere in Time," "What Dreams May Come," "A Stir of Echoes," "Hell House," or "The Incredible Shrinking Man."
I lived in the same city and plied at the same trade as my unmet writer hero and mentor. I strived to write stories with relate-able characters and good twists and I tried to have them turned into movies. I continually improved at my craft, but never attained his prolific output of published or produced work, or his notoriety. And I'm fine with all that. He IS legend. I remain fan.
A. Wayne Carter